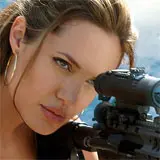 Update: We've added box art for the standard and collector's edition sets below. The standard edition includes a slipcover seen large, with the smaller snapshot from a trade slick showing the interior case cover.
The collector's edition set image can be enlarged to high resolution by clicking on it.
Universal Studios Home Entertainment has revealed the Timur Bekmambetov stylistic thriller Wanted starring Angelina Jolie and James McAvoy is coming to Blu-ray Disc on December 2, confirming earlier reports dating back to August suggesting a release on that exact date.
Like Hellboy in November, Universal will be issuing standard and collector's edition sets for Wanted. The difference between the two, aside from elaborate packaging, are 4 collectible postcards and a lenticular scene in an acrylic frame exclusive to the collector's edition. Everything else, including a two-disc configuration, is identical.
Wanted on Blu-ray will be presented in widescreen 2.35:1 1080p video and 5.1 DTS-HD Master Audio with English, French and Spanish subtitles.
An extensive array of supplemental features will be crammed onto disc one with the feature while a standard definition digital copy occupies disc two. The full list of extras are as follows.
U Control – Motion Comics
U Control – Scene Explorer
U Control – Assassin Profiles
U Control – Picture in Picture
BD Live – My Chat
BD Live – My Wanted Commentary
BD Live – My Scenes Sharing
BD Live – Exclusive Content
Alternate Opening
Extended Scene
Cast and Characters
Stunts on the L Train
Special Effects: The Art of the Impossible
Groundbreaking Visual Effects: From Imagination to Execution
The Origins of Wanted: Bringing the Graphic Novel to Life
Through the Eyes of Visionary Director Timur Bekmambetov
Wanted: Motion Comics
The Making of Wanted: The Game
Digital copy on second disc
Wanted on Blu-ray will carry an SRP of $39.98 while the collector's edition comes in at $69.98.
Click here to pre-order Wanted: standard edition on Blu-ray at Amazon.com.
Click here to pre-order Wanted: Collector's Edition on Blu-ray at Amazon.com.