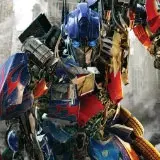 Update: Amazon.com has begun taking pre-orders for Transformers: Dark of the Moon on Blu-ray and DVD. Click here to secure your copy of Transformers: Dark of the Moon on Blu-ray for a discounted price.
Original article (September 9, 2011): Following a gaffe about a week ago when the release date for Transformers: Dark of the Moon accidentally leaked via a mobile app, today Paramount officially announced a September 30, 2011 release date for the Michael Bay film on Blu-ray Disc and DVD.
Transformers: Dark of the Moon starring Shia LaBeouf, Josh Duhamel, Tyrese Gibson, John Turturro, Patrick Dempsey, Frances McDormand, John Malkovich and Rosie Huntington-Whiteley has amassed an amazing $1.1 million at the worldwide box office, joining the ranks of Avatar and Titanic in the exclusive billion dollar club.
The Friday, September 30 debut for Transformers: Dark of the Moon on Blu-ray and DVD is exactly three months after the film's theatrical release back in late June. Much like Avatar, Paramount will be releasing staggered versions of the film on home video to both appease the demand of those who want it now, as well as those who want as many extras as possible.
There will be no bonus features on this first version of Transformers: Dark of the Moon on Blu-ray, but it will include the DVD version and a digital copy. Instead, the emphasis has been placed on maximizing the technical presentation with a 1080p transfer, 7.1 Dolby TrueHD Audio, as well as English 5.1 Discrete Dolby Digital and English 2.0 Discrete Surround Dolby Digital tracks, both a first for the studio.
Later this year, reportedly in November, Paramount will roll out deluxe Blu-ray 2D, 3D and DVD versions loaded with special features. Per Michael Bay, "…we put a lot of effort into the 3D experience for the theatrical release and I want to make sure we get it right for home viewing–and that process takes time. So stay tuned for an even more incredible release that will include the film on Blu-ray 3D and loads of bonus features."
Check out the Transformers: Dark of the Moon Blu-ray cover art below, and look for this article to update in the near future with Amazon's pre-order link.