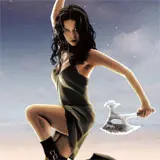 Update: Newly designed cover art has been added along with a poll between the HD DVD and Blu-ray covers at the bottom of the article.
Universal's first HD DVD release Serenity has been noticeably absent from the studio's Blu-ray slate since they began supporting Blu-ray in July. With Fox releasing Firefly: The Complete Series on Blu-ray next week, we thought for sure Serenity would appear shortly thereafter.
This morning, Universal announced Serenity is indeed coming to Blu-ray soon, on a BD50 disc December 30 to be precise. And it will be worth the wait with a number of upgrades over its HD DVD predecessor.
The most obvious and expected update is the bump in audio resolution from 5.1 Dolby Digital Plus to lossless 5.1 DTS-HD Master Audio. The same widescreen 2.35:1 1080p transfer is likely to be used.
Extra features have really been beefed up with a second audio commentary, U-Control, a database feature and BD-Live support. The complete list as as follows.
Alliance Database
U Control: Mr. Universe Compendium
U Control: Digital Tour of Serenity
U Control: Picture in Picture
U Control: Visual Commentary with Writer/Director Joss Whedon & Cast
BD Live: My Scenes Sharing
Feature Commentery with Writer / Director Joss Whedon
Feature Commentary with Writer / Director Joss Whedon & Cast Members Nathan Fillion, Adam Baldwin, Summer Glau and Ron Glass
Deleted Scenes with Optional Commentary by Director Joss Whedon
Future History – The Story of Earth That Was
What's In A Firefly
Re-Lighting The Firefly
A Filmmaker's Journey
We'll Have A Fruity Oaty Good Time!
Extended Scenes
Take A Walk On Serenity
The Green Clan
Session 416
Serenity on Blu-ray will retail for $29.98.
Click here to pre-order Serenity on Blu-ray for $21.95 from Amazon.com.
Which cover do you like better? The old HD DVD one or the new Blu-ray one? Both are pictured below, and you can vote on your favorite in this public poll located in the HDR Forums.