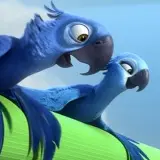 The final North American box office numbers from this past weekend are in and Twentieth Century Fox's 3D-animated feature Rio pulled off the best weekend opening of any movie this year thus far. It easily flew past its main competition, The Weinstein Co./Dimension's belated sequel Scream 4, to land in the top spot. With a handful of movies displaying decent holds, the box office is showing signs of genuine life for the first time in quite some time.
After opening overseas the weekend before to a nice $80 million, Fox opened the latest animated feature from Blue Sky Studios (Ice Age) on 3,826 screens for a colorful $39.2 million and a great per-screen average of $10,455. While the opening for Rio may not have matched the March openings for the first two Ice Age films ($46 million for the original, $68 million for the second one), the film did pass by two recent features, Hop ($37.5 million) and Rango ($38 million) to claim the spot of biggest opening of 2011 so far if estimates hold. There is little doubt that having the film on 2,951 3D screens helped.
Directed by Carlos Saldanha and featuring the voice talents of Jamie Foxx, Jane Lynch, Jesse Eisenberg and Leslie Mann, Rio tells the tale of a domesticated and rare blue Macaw who encounter a series of adventures when it heads home to Rio De Janeiro. The film scored a 71% approval rating from Rotten Tomatoes and more importantly, an "A" rating from ticket buyers on Cinemascore which should help the film fly high over the next few weeks.
After lying dormant for eleven years, the Weinstein Company and director Wes Craven have decided to milk the cash cow known as the Scream franchise one more time with the number two movie in North America, Scream 4. Despite the return of Craven, screenwriter Kevin Williamson (who wrote the first two) and series regulars Neve Campbell, Courtney Cox and David Arquette, few seemed enticed to see the latest installment of the long running series. Debuting on a wide 3,305 screen count, the best the latest chapter could muster was a so-so $19.3 million and a per screen average of $5,833. This opening was far below the openings for the 1997 second film $32 million opening and the third film's $34 million in 2000.
Scream 4 received mixed critical notices (57% on Rotten Tomatoes), although many felt that this installment was an improvement over Scream 3. But reviews rarely have little if no effect on box office performance of a slasher flick. Instead, the mediocre debut could be attributed that after 15 years, most have had their fill of the series and have moved on. As one poster on another site sarcastically suggested, perhaps the Weinstein Company should edit the movie down to a PG-13 to nab a wider audience a la "King's Speech". Then again, maybe not.
Despite the birds of Rio flying into town to steal the top spot, Universal's hit comedy Hop held fairly well to land in third place. For the weekend, the animated/live-action hit featuring the voice talents of Russell Brand eased 47% to add $11.2 million to its domestic total which now sits at $82.6 million. The film should hop its way to approximately $115 million by the end of its run.
After making a surprise $11 million debut last weekend, FilmDistrict's Soul Surfer kept Hollywood second-guessing it by holding strong in its second round. Off a small 30%, the film added $7.4 million in sales to bring its ten-day total to the $20 million mark. Word-of-mouth among its target audience has been quite strong for the drama which in turn is helping it stay afloat at the box office. Should Soul Surfer continue to hang ten in the top ten, the religious-themed drama could make its way a very respectable $45-50 million before it rides a new wave onto home video.
Also holding well in its second weekend was the action flick Hanna which eased by 40% for a $7.3 million estimate. The ten-day total now stands at approximately $23.7 million. The Joe Wright-directed film should finish its run between $45-50 million. Sobering up in sixth place was Warner's remake of Arthur which drank approximately 43% less in ticket sales than it did last weekend to bring in an estimated $6.9 million. Its ten-day total now stands at an unimpressive $22.3 million with a ceiling of $35 million looking likely.
Spots seven and eight were home to two movies showing some nice longevity. In seventh was another FilmDistrict release that was defying expectations, the horror film Insidious. In its third weekend, the film eased a slight 27% to $6.7 million and a new total of $36 million. At this rate, it wouldn't be much of a surprise to see James Wan's sleeper hit to continue to stay in the top ten long after Scream 4 has dropped out. Insidious could possibly reach the $60 million mark which would make the $1.5 million indie production an extremely profitable one. Eighth place went to Summit Entertainment's Source Code. The Jake Gyllenhaal flick was also off only 27% to add $6.3 million to its domestic total which now sits at $37 million. The $50 million mark is still a possibility for the well-received sci-fi thriller from Duncan Jones.
In ninth place was the latest directorial effort from Robert Redford, the historical drama The Conspirator. The Roadside Attractions feature debuted on a moderate 707 screen count to earn $3.9 million for a good per-screen average of $5,550. The film will expand to 1,000 screens next weekend. Rounding out the top ten was Universal's box office bomb Your Highness. The Danny McBride comedy dropped by 59% in its second and final weekend in the top ten to bring in $3.89 million on 2,772 screens for a weak ten-day total of $15.9 million. The film may eek past the $20 million mark, but not much beyond that.
For the Easter holiday weekend, three new films will make their debuts: the Disney Nature documentary African Cats, the latest from Tyler Perry Madea's Big Happy Family and the romantic drama Water for Elephants with Twilight teen heartthrob Robert Pattinson.
– Shawn Fitzgerald