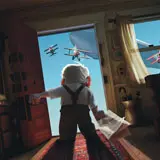 Update: The official teaser is now online at Disney and Pixar's Up website right here. The official release date is May 29, 2009.
The teaser trailer for Pixar's next featured-length animated film Up is now, well, "up" on YouTube signaling the hopeful arrival of a squeaky clean Apple version in the not-to-distant future.
So what is Up about? The only snippet released by the studio appeared in a forwarding looking Disney press release back in April.
"From the Academy Award-nominated team of director Pete Docter (Monsters, Inc.) and co-director Bob Peterson comes Up, a comedic adventure taking off (and lifting spirits) in summer 2009. Carl Fredricksen spent his entire life dreaming of exploring the globe and experiencing life to its fullest. But at age 78, life seems to have passed him by, until a twist of fate (and a persistent 8-year old Wilderness Explorer named Russell) gives him a new lease on life. "Up" takes audiences on a thrilling journey where the unlikely pair encounter wild terrain, unexpected villains and jungle creatures. When seeking adventure next summer — look "Up."
Chime in with your thoughts on Up's potential in the HDR Forums.