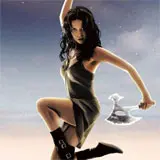 Update: Revised cover art has been added.
Twentieth Century Fox Home Entertainment has announced Firefly: The Complete Series is set to land on Blu-ray Disc just in time for the holidays on November 11.
Firefly's arrival this holiday season has been anticipated after Amazon.com began taking pre-orders for the set, complete with cover art, several months ago.
Fox will present Firefly on Blu-ray in widescreen 1.78:1 1080p video and 5.1 DTS-HD Master Audio spanning three BD-50 discs.
For supplemental features, an all-new cast reunion featurette and newly recorded episode commentary are exclusive to Blu-ray. The full list of Firefly extras including those previously released on DVD is as follows.
DISC 1
Serenity (Part 1 & 2) with Commentary by executive producer Joss Whedon and actor Nathan Fillion
The Train Job with Commentary by executive producers Joss Whedon and Tim Minear
Bushwacked
Shindig with Commentary by writer Jane Espenson, actress Morena Baccarin and costume designer Shawna Trpcic
Here's How It Was: The Making of Firefly featurette
DISC 2:
Safe
Our Mrs. Reynolds with Commentary by executive producer Joss Whedon and actors Nathan Fillion, Alan Tudyk and Ron Glass (Blu-ray exclusive)
Jaynestown
Out of Gas with Commentary by executive producer Tim Minear and director David Solomon
Ariel
Firefly Reunion: Lunch with Joss, Nathan, Alan and Ron featurette (Blu-ray exclusive, HD)
DISC 3:
War Stories with Commentary by actors Nathan Fillion and Alan Tudyk
Trash
The Message with Commentary by actor Alan Tudyk and actress Jewel Staite
Heart of Gold
Objects in Space with Commentary by executive producer Joss Whedon
Serenity: The 10th Character
Joss Sings the Firefly Theme featurette
Joss Tours the Set featurette
Deleted Scenes
Gag Reel
Alan Tudyk's Audition
Firefly on Blu-ray carries an SRP of $89.98.
You can secure your copy of Firefly on Blu-ray by pre-ordering the set at a discounted price from Amazon.com.
Discuss Firefly's arrival on Blu-ray in the HDR Forums.