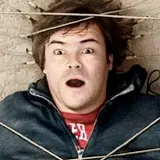 Update: Although Amazon is listing Gulliver's Travels with a sku for Blu-ray 3D, Fox's official press release issued this morning makes no mention of a Blu-ray 3D version coming on April 19. Either Fox is waiting to separately announce their entry into Blu-ray 3D or, more likely, Amazon's listing is incorrect.
In any event, the Gulliver's Travels Blu-ray bonus features are now available thanks to this morning's press release and are below in their entirety:
Gag Reel
Deleted Scenes

Old Hank
Gulliver Meets Royals – Extended Version
Defense System
Royal Banquet – Extended Version
Basketball
King & Queen Practice Basketball and King Makes Breakfast
Horatio and Princess on a Date
Gulliver and Edward Duel in Gulliver's House

I Don't Know (A Gulliver's Tales) Exclusive Jack Black Piece
Little and Large – Find out how film makers made Gulliver so BIG
Jack Black Thinks Big – Creating foosball, basketball and Time Square in Lilliput
Down Time – Fun Foosball Gulliver Style
Gulliver's Foosball Challenge
War Song Dance
Fox Movie Channel Presents: In Character Jack Black and In Character Jason Segel
Fox Movie Channel Presents: In Character Jason Segel
Life After Film School: Rob Letterman of Gulliver's Travels
BD Live Extras

Exclusive: Jack & Jason's Dance Class
Blu-ray Highlight: Little and Large
Theatrical Trailer

DVD (disc 2) and digital copy (disc 3)
Original article: Fox Home Entertainment appears poised to enter the Blu-ray 3D retail market on April 19 with the release of Gulliver's Travels starring Jack Black and Amanda Peet.
Listings for Gulliver's Travels on Blu-ray and a separate sku for Blu-ray 3D appeared at Amazon.com during the past week. The Blu-ray 3D version has an SRP $10 more than the Blu-ray version at $49.99 versus $39.99.
Though Fox has yet to formally announce their entrance into the standalone Blu-ray 3D market, the fact that these listings have active pre-order links suggest that retailers have already been notified of their upcoming arrival. The official announcement will be passed along once it's made.
Last year Fox offered Ice Age: Dawn of the Dinosaurs on Blu-ray 3D as part of a summer Panasonic 3D starter kit that also included Coraline on Blu-ray 3D. Universal has since released Coraline individually on Blu-ray 3D this past summer. Ice Age: Dawn of the Dinosaurs on Blu-ray 3D is still exclusive to the Panasonic starter kit making Gulliver's Travels the first Fox film to be released individually at retail.
Click here to pre-order Gulliver's Travels on Blu-ray at Amazon.com.
Click here to pre-order Gulliver's Travels on Blu-ray 3D at Amazon.com.