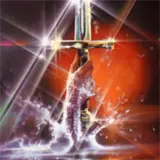 Update: A sneak peek at the cover art is below. Still no pre-order link at Amazon.com.
Warner Home Video has announced plans to bring John Boorman's 1981 film Excalibur to Blu-ray Disc on March 8 to time with Easter.
Excalibur is based on Sir Thomas Mallory's 'Le Morte D'Arthur,' one of the first books ever printed. It concerns King Arthur and the Knights of the Round Table and stars Nigel Terry and Helen Mirren with appearances by notables including Patrick Stewart, Gabriel Byrne and Liam Neeson.
Excalibur on Blu-ray will be presented in 1080p video and 5.1 DTS-HD Master Audio. Supplements include a full-length audio commentary by director John Boorman and the theatrical trailer.
Warner has set an SRP of $19.99 for Excalibur on Blu-ray which should put Amazon.com pricing in the $15 range. I'll share that pre-order link and cover art when each is available.