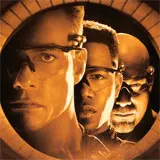 With Jcvd set to arrive on Blu-ray in late April, Sony is planning to take advantage of Jean-Claude Van Damme's new film by tapping into its own Jcvd catalog of marginal films the new movie makes fun of.
Universal Soldier: The Return will arrive on Blu-ray Disc April 14 with a 1.85:1 1080p transfer and 5.1 Dolby TrueHD audio.
Surprisingly a trio of bonus features will be included on this release as outlined below.
Making of Featurette
Michael Jai White: "A Universal Soldier's Workout" Featurette
Jean-Claude Van Damme: Looking Back-Moving Forward
We hope to have Universal Soldier: The Return Blu-ray cover and pre-order information in the near future.