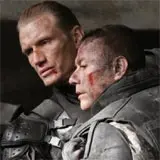 Sony Pictures Home Entertainment is keeping the Universal Soldier franchise alive with the direct-to-video release of Universal Soldier: Regeneration aka Universal Soldier 3 on Blu-ray Disc and DVD February 17.
Jean-Claude Van Damme returns for a third turn as Luc Deveraux while Dolph Lundgren makes his first appearance since being fed through a chipper in the original. Former UFC champ Andrei "The Pitbull" Arlovski also joins in the Unisol fun.
Universal Soldier: Regeneration comes to Blu-ray in 2.35:1 1080p video and 5.1 DTS-HD Master Audio.
A director and cast commentary along with a Behind the Lines featurette are shared bonus features between Blu-ray and DVD with Blu-ray also including the exclusive movieIQ BD-Live feature.
Click here to pre-order Universal Soldier: Regeneration on Blu-ray at discounted price from Amazon.com.
With stolen top-secret technology, terrorists have created a next-generation Universal Soldier – an elite fighter genetically altered into a programmable killing machine. With this "UniSol" (Former UFC Heavyweight Champion Andrei "The Pit Bull" Arlovski) leading the way, they seize the crippled Chernobyl nuclear reactor, threatening to unleash a lethal radioactive cloud. The only one who can stop them is Luc Deveraux (Jean-Claude Van Damme), a UniSol who's been decommissioned for years. Reactivated and retrained, Deveraux must make a full-out assault on the heavily armed fortress. But inside, he'll discover not one but two of these virtually indestructible warriors. Andrew Scott (Dolph Lundgren), Deveraux's vicious UniSol enemy from the original Universal Soldier, has been secretly reanimated and upgraded. Now, these elite fighters are locked, loaded and programmed to kill; and the fate of millions hinges on this high-action showdown.