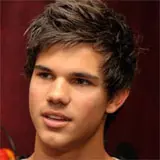 Universal has nabbed The Twilight Saga: Eclipse star Taylor Lautner to star in the upcoming adaptation of Hasbro's Stretch Armstrong toy for the big screen. No word on whether Lautner will be required to dye his hair bleach blond for the role.
Stretch Armstrong, scripted by Steve Oedekerk, originally had a release date of May 15, 2011. The Avatar effect has peer-pressured Universal to go 3D and slide Stretch Armstrong back into 2012.
Also moving into 2012 is Universal's adaptation of Battleship for the big screen. New sci-fi elements being introduced to the script are the culprit for the delay, but are also substantial enough for Universal to have confidence in a Memorial Day opening.
As for Lautner, his latest action hero starring role after signing on to star in Max Steel and Cancun will see him play an uptight spy who happens upon a stretching formula to help fight crime. Think Mr. Fantastic or The Incredibles' Elastigirl and you'll get a good idea of what Stretch will likely be doing in the film.
The big rubbery Kenner Stretch Armstrong toy dates back to 1976 and was a staple in many boy toy boxes of the time. I had never personally owned one, but pretty much every one of my friends had one at one time or another.
Source: THR