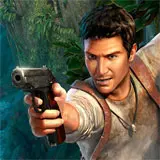 Uncharted: Drake's Fortune, one of the strongest Sony Playstation 3 exclusive titles available and a perfect candidate to adapt for the big screen, is being developed into a movie.
Per The Hollywood Reporter, Columbia has brought scribe Kyle Ward on board to pen a script for a film based on the wildly successful PS3 game.
Ward is no stranger to adapting videogames for film as he has already written Kane & Lynch set to star Bruce Willis for Lionsgate and has recently been tapped to pen Hitman 2 for Fox. Based on the timing of news it is likely Hitman 2 will be worked on prior to Uncharted.
The story is expected to mirror the game which follows Nathan Drake, a direct descendant of explorer Sir Francis Drake, on a quest to locate the lost South American city of El Dorado. In Indiana Jones fashion, he'll have to outsmart a rival treasure hunter and guardian mutated Spaniards and Nazis to reach his goal.
A sequel to Uncharted: Drake's Fortune, titled Uncharted 2: Among Thieves, is due out on PS3 this November.