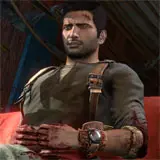 The new trailer for Uncharted 2: Among Thieves brought us more than just another peek into the peril that awaits Nathan Drake.
First, the trailer confirms Uncharted 2: Among Thieves will be released exclusively on Playstation 3 next fall. Until now we had simply assumed this time frame so it is good to see some official confirmation.
The trailer depicts a nasty train wreck which Nathan awakes to find himself a victim of. This scene is likely a prequel to the first Uncharted 2 teaser trailer in which Nathan is seen slogging through a vast snowy environment by himself.
You can check out the first Uncharted 2 trailer by clicking here to be the judge for yourself.
More Uncharted 2: Among Thieves media should begin to trickle out as we head into the new year.