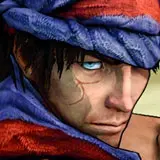 Ubisoft has dated the Prince's highly anticipated reinvention as a cell-shaded hero which you'll have in your hands before the year is out.
The new and likely final release date for Prince of Persia on Xbox 360, Playstation 3 and the PC is December 2.
Ubisoft's describes the Prince's latest adventure as follows: Set in a land rooted in ancient Persian mythology, the Prince finds himself caught in an epic battle between the primal forces of light and darkness: the God of Light, Ormazd versus his brother Ahriman, the destructive God of Darkness. The Prince arrives just in time to witness the destruction of the legendary Tree of Life – an act which threatens to plunge the entire world into eternal darkness. Manifested in the form of the Corruption, a dark substance that physically contaminates the land and the skies, the Prince must partner with Elika, a deadly companion, to heal the world from the evil Corruption.
We had a chance to check out the new artistic Prince at E3 and anticipate a sleeper hit for Ubisoft and positive new direction for the series as the feature film draws closer to release. This is a Prince of Persia adventure you'll want to go out of your way to take for a spin.