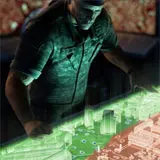 Ubisoft has turned a cold cheek to Sony and announced a playable demo for Tom Clacy's EndWar is now available for free download on Xbox 360, but will not appear on Playstation 3.
The demo is split into two parts: a single player and multiplayer component. The single player mode features the Prelude to War campaign serving as a tutorial for control familiarization.
The multiplayer mode features one-on-one "Conquest" gameplay on the La Mancha, Spain map. It also includes full match-making capabilities.
Tom Clancy's EndWar will rumble onto Xbox 360 and Playstation 3 on November 4.