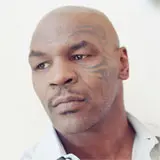 In the coming days, Sony Pictures Home Entertainment is expected to announce Tyson will be released on Blu-ray Disc and DVD August 18.
Per Sony, Tyson is acclaimed indie director James Toback's stylistically inventive portrait of a mesmerizing Mike Tyson. Toback allows Tyson to reveal himself without inhibition and with eloquence and a pervasive vulnerability. Through a mixture of original interviews and archival footage and photographs, a startlingly complex, fully-rounded human being emerges. The film ranges from Tyson's earliest memories of growing up on the mean streets of Brooklyn through his entry into the world of boxing, to his rollercoaster ride in the funhouse of worldwide fame and fortunes won and lost. It is the story of a legendary and uniquely controversial international athletic icon, a figure conjuring radical questions of race and class. In its depiction of a man rising from the most debased circumstances to unlimited heights, destroyed by his own hubris, Tyson emerges as a modern day version of classic Greek tragedy.
Tyson saw a limited theatrical release in April with a box office total of $836,000. It should find a larger audience on home video due partly to the increased media coverage surrounding the tragic death of his daughter only a month after the film was released.
I will pass along disc specs, bonus features and cover art when Sony officially makes an announcement.
Click here to pre-order Tyson on Blu-ray for $27.99 at Amazon.com.