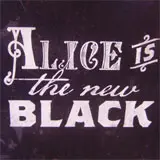 Comingsoon.net snapped pics of two new posters for Tim Burton's Alice in Wonderland from Disney's ongoing D23 Expo at the Anaheim Convention Center across from Disneyland.
The simple yet stylish posters feature Burton-esque text "Who Will You Wear to the Tea Party?" and "Alice is the New Black." No word yet if these will be available for purchase at a later date.
Tim Burton's Alice in Wonderland stars Johnny Depp, Anne Hathaway, Michael Sheen and Mia Wasikowska, amongst others. It will be released in 3D and traditional showings on March 5, 2010.
Head over to ComingSoon.net to view larger versions of the posters.