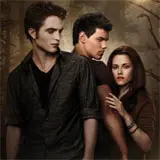 The Twilight Saga: New Moon first theatrical trailer has broke the all-time trailer download record at MySpace's Trailer Park including its predecessor, Twilight.
MySpace saw the trailer viewed 4.2 million times in the first 24 hours it was online. After a week, the trailer had been downloaded 7.8 million times.
Total trailer views over the first week between MySpace and MTV, the other launch partner, were a staggering 10.6 million views. People either love their Twilight or curiosity is a temptation impossible to resist.
To give you an idea of how impressive 4.2 million downloads is during the first 24 hours, J.J. Abrams' Star Trek made the news when it managed 1.8 million over the same time span. At the time that was the trailer download record for Apple.com.
The only other trailers this year that might have a shot at challenging Twilight New Moon are James Cameron's Avatar and, if Paramount and Marvel are in a giving mood, Iron Man 2. Best of luck to them both.