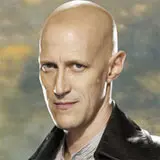 Arguably the most intriguing component of The Twilight Saga: New Moon are the Volturi Vampires. Not so much because of who they are but because of the well regarded cast portraying some of them: Michael Sheen, Dakota Fanning, and sci-fi veteran Christopher Heyerdahl.
In New Moon, Heyerdahl plays the 3,000 year-old Volturi vampire Marcus forced to live with the Volturi against his will. The actor recently sat down with Sci Fi Wire to discuss joining the Twilight universe and the ins and out of his character.
"He's one of the oldest vampires on the planet, and who doesn't want to play a 3,000-year-old vampire?" Heyerdahl said. "The cast that I get to work with, like Michael Sheen. We had so much fun goofing off together. It was an absolute hoot. Director Chris Weitz's version for this piece is like a Renaissance painting. The images were absolutely beautiful, and the character is such a tragic old fellow."
Heyerdahl goes on to discuss what motivates Marcus and awakens him from an eternity mired in boredom, the relatively tame prosthetics required to suck life out of Marcus, and his future in the fourth Twilight film despite not having read the book.
"I do know generally what happens, since it is impossible not to find out. And, yes, I've been contracted for the final chapter."
Head on over to Sci Fi Wire to read the complete interview.