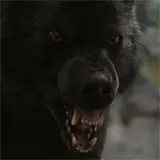 The Twilight Saga: Breaking Dawn Part 1 TV spots are beginning to air, and one of them actually focuses on wolf boy Taylor Lautner rather than love birds Robert Pattinson and Kristen Stewart.
The vast majority of Breaking Dawn publicity to this point has been spent slowly revealing the wedding between Edward and Bella, the honeymoon, and the consequences of unprotected vampire sex.
In this TV spot, you get to see these events from Jacob's point of view. Let's just say he's none too pleased that his crush is not only not interested in him, but got knocked up by his kind's sworn enemy.
The Twilight Saga: Breaking Dawn Part 1 starring Kristen Stewart, Robert Pattinson, Taylor Lautner, Kellan Lutz, Ashley Greene, Jackson Rathbone, Nikki Reed and Peter Facinelli will be in theaters everywhere on November 18.
Check out the first Breaking Dawn clip and a promotional spot on the wedding here.