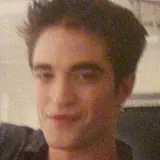 Straight from the Baton Rouge, Louisiana set of The Twilight Saga: Breaking Dawn comes a picture of Robert Pattinson and Alex Rice posing for the camera.
In the film Alex plays Sue Clearwater, a love interest for Kristen Stewart's Bella character's father. Nestled in Robert's arms is a baby that you might think is Renesmee Cullen, but is actually Alex's young child earning some early age bragging rights.
The Twilight Saga: Breaking Dawn Part 1 will open in theaters everywhere on November 18th, 2011. Part 2 is scheduled to close the Twilight saga a year later.