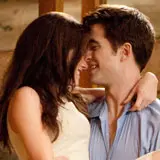 Summit Entertainment has been busy on The Twilight Saga: Breaking Dawn Part 1 publicity front over the past few days.
First, they released a handful of new images including Taylor Lautner getting enraged after receiving one of Bella and Edward's wedding invitations and, of course, more of Robert Pattinson and Kristen Stewart being affectionate before and after their big wedding event. Lautner as Jacob actually pops up in two of the images and looks none too please in either.
The featurette centers around the big wedding event between Pattinson's Edward Cullen and Stewart's Bella Swan that will highlight the film's first act. There's some all-new footage mixed in with shots from the previously released trailers, as well as interview snippets with a few members of the cast whose characters were at the big supernatural shindig.
The Twilight Saga: Breaking Dawn Part 1 opens in theaters everywhere on November 18.