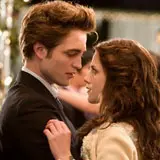 Summit Entertainment has announced director Bill Condon will shoot The Twilight Saga: Breaking Dawn parts 1 and 2 beginning this fall in Vancouver, where much of the previous three films were shot, and Louisiana, a state battling oil from the BP still but also currently enjoying The Green Lantern's production on its soil.
Stars Kristen Stewart, Robert Pattinson and Taylor Lautner are rumored to haul in nearly $41 million a piece for both Breaking Dawn films based on estimated box office earnings and various typical fees debited. No wonder Kellan Lutz and Ashley Greene were crying wolf and asking for more cash.
The Twilight Saga: Breaking Dawn Part 1 will be released in theaters everywhere on November 18, 2011. Part 2 has yet to be dated but if Summit follows Warner's blueprint for Harry Potter and the Deathly Hallows, Part 2 of Breaking Dawn would go up against The Avengers in summer 2012.