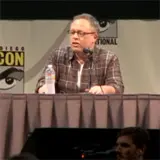 Twilight returned to Hall H at Comic-Con earlier today and brought with it throngs of passionate fans, ridiculously long lines, and a few surprises from the film's stars.
As in year's past, The Twilight Saga: Breaking Dawn Part 1 panel saw lines queue up days in advance with fans hoping to see Robert Pattinson, Kristen Stewart or Taylor Lautner in person. That is assuming they'd show as there were no guarantees.
On the morning of the big day today, it was several of the film's other stars who made a surprise appearance to the fans in line and, of course, eliciting all sorts of screams and cheers. Summit Entertainment released some footage of the lines and surprise guests which you can watch below.
Summit was also kind enough to appease Twilight fans not in San Diego or packed into Hall H by releasing the portion of the panel where director Bill Condon and the film's three big stars are ushered onto the stage. If for some reason you're sensitive to screams and yells then you may want to mute this next clip.
Scenes from The Twilight Saga: Breaking Dawn Part 1 shown at Comic-Con may or may not be released as clips closer to the film's November release date. With the film due out in a mere four months, expect the publicity machine to start kicking into high gear and new image and video assets to start making their way online.