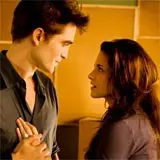 The Twilight Saga: Breaking Dawn Part 1 is set to make a big home video splash on Saturday, February 11 when it debuts on Blu-ray and DVD.
Summit Entertainment chose Saturday for the big Robert Pattinson, Kristen Stewart and Taylor Lautner sequel's release rather than a traditional Tuesday date to take advantage of midnight launch parties, despite Tuesday falling directly on Valentine's Day. Either way, Summit will be putting Breaking Dawn into the hands of its fans only a week beyond the three month theatrical window's closure.
The Breaking Dawn two-disc DVD and single-disc Blu-ray release are expected to include a 6-part documentary viewable in the bonus features or via PiP with the film; Bella & Edward's Personal Wedding Video; Becoming Jacob; Edward and Jacob Fast Forward; an audio commentary with director Bill Condon.
Click here to pre-order The Twilight Saga: Breaking Dawn Part 1 on Blu-ray for $22.99 at Amazon.com, 32% off the $33.99 list price.