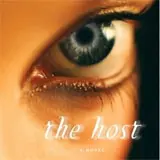 Stephanie Meyer's Twilight series has push fanaticism to its limits so it was only a matter of time before her first adult themed novel, The Host, would be adapted into a feature film.
Per Variety, producers Nick Wechsler, Steve and Paula Mae Schwartz have picked up the theatrical rights to The Host using their own cash. Andrew Niccol (Gattaca, The Truman Show) is already on board to pen the screenplay and adapt the film.
The Host is set in the near future where an alien species has assimilated Earth leaving a lone pocket of unaffected humans in hiding. The story surrounds one of the aliens, a "Soul," who attempts to get the location of the humans from a dieing girl by fusing with her.
Author Stephanie Meyer is expected to be heavily involved in the creative process to develop and shot The Host as she has been with the Twilight Saga films.