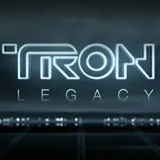 The second of five images Disney is releasing this week from the upcoming Tron Legacy trailer is now online.
I had correctly predicted the next image would progress through the trailer in chronological order. The distance in time between the first and second image leaves much to be desired.
Image number two features Garrett Hedlund as Sam Flynn pulling up to his father's old arcade on a motorcycle. You can spot his reflection in the bike's side mirror. In the first image you can see the same motorcycle coming down the street approaching Flynn's.
Check back tomorrow for the third image in the sequence (inside the arcade hopefully!) and cross your fingers that Disney releases the trailer online this Friday in conjunction with its debut in front of Alice in Wonderland.