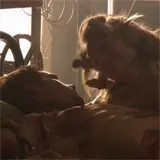 Jason Stackhouse is the loverboy on HBO's True Blood so seeing him half naked and tied to a bed in this new sneak preview season four clip isn't really a shocker. Unless you turn the volume on to hear what's being said, in which case a big spoiler warning starts now.
In the scene, Jason (Ryan Kwanten) is clearly injured and is being nursed by were-panther Crystal (Lindsay Pulsipher). But if he's injured then why is he tied up? Because though Jason thinks he's dieing, Crystal informs him that he's transforming into one of her kind.
This plotline is nothing new to readers of the Sookie Stakehouse books which is likely why HBO wasn't shy about revealing it months before the season four premiere airs. They did the same with the first of the "Waiting Sucks" character-centric sneak preview clips with Eric Northman (Alexander Skarsgård) losing his memory and wandering aimlessly.
In addition to the Eric Northman "Waiting Sucks" clip, HBO has also released one for Sam Merlotte (Sam Trammel). Expect another "Waiting Sucks" clip in the next week or so.