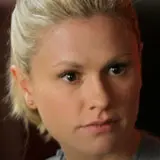 Alan Ball has finally confirmed what Sookie Stackhouse is in the latest episode of True Blood, 'I Smell a Rat,' along with setting in motion a series of events that lead into the season finale.
Sookie's new predicament should play a big role in that finale which will be prefaced by episode 35, 'Fresh Blood.' As the preview for 'Fresh Blood' (seen below) reveals, Eric and Russell will confront one another in the aftermath of Talbot's murder.
'Fresh Blood,' the eleventh episode of True Blood Season 3, will premiere Sunday, August 29 on HBO. Additional footage from the final two episodes is scattered through the True Blood Comic-Con trailer.