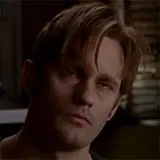 On last night's True Blood 'Everybody Wants to Rule the World,' Bill sipped some more of Lilith's blood in the heat of sex and slipped further into the vampire god's grips. On one hand, Bill's new purpose gives him a small dose of personality. On the other, he's completely turned on Eric.
The promo for next Sunday's episode, 'Gone, Gone, Gone,' shows Bill's devotion to Lilith runs deep. He's willing to put a stake device on his "friend" while under the influence of Lilith's blood. At the least the editing leads us to believe the device is put on Eric.
I smell a redemption for Bill coming, either at the end of Season 5 or early on in Season 6. And I suspect Sookie is just what Bill needs to either knock some sense into him or help complete a secret plan he and he alone knows about.
The new True Blood promo also tells us that Pam and Tara will attempt to deal with the new vampire sheriff that now sits on Eric's throne. Human blood is flowing freely and Pam doesn't seem too thrilled about the new direction the world is heading. As gruff as Pam and Eric come across, they run a fairly civilized vampire establishment.
Sam and Luna will find out who has Luna's daughter and head out after Steve Newlin to retrieve her. Newlin has been somewhat of a lost cause this season, popping up sporadically and offering next to nothing to the narrative. It wouldn't be a shocker if Luna put the former preacher down for good. Or maybe she will enlist his old Fellowship of the Sun congregation to help out.
The most intriguing shot in the promo is of a ghostly Godric being embraced by an equally ghostly Lilith. Godric has been Eric's voice of reason to resist Lilith. Why on earth would she appear in the same vision? Assuming, of course, it is Eric's vision being seen.
'Gone, Gone, Gone' kicks off the final three episodes of True Blood: Season 5 and Alan Ball's turn as showrunner this upcoming Sunday. I suspect he will go out in style and eliminate a primary cast member. It's long overdue.