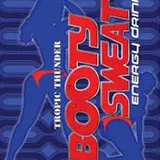 Paramount's affinity for store exclusives has carried into Tropic Thunder with news of a Blu-ray exclusive that will make your mouth water.
If you plan on picking up Tropic Thunder on Blu-ray, you may want to consider making a trip to Best Buy. There, and only there, will you have the opportunity to score your very own Booty Sweat t-shirt with the purchase of Tropic Thunder on Blu-ray.
Yes, Booty Sweat. In energy drink form. Yummy.
Tropic Thunder rolls on Blu-ray November 18 day-and-date with DVD with an unrated cut. We've got a thread already set up in the HDR Forums for discussion which you can access by clicking here.