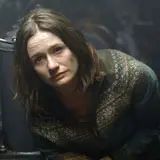 First Look Home Entertainment has set November 11 as the day Transsiberian will roll onto Blu-ray Disc, day-and-date with DVD.
Transsiberian, also known as Trans-Siberian and starring Emily Mortimer and Woody Harrelson, follows two Western couples who meet on the Trans-siberian Express train from Beijing to Moscow. When one of the couples turns out to be not who they seem, the other is left scrambling for their lives.
Due to the early nature of this information gleaned from multiple retailer sources, we don't have any technical specs or supplemental materials information to share at this time. We will certainly provide an update once the information is in-hand.
Transsiberian on Blu-ray will carry an SRP of $34.95.
Click here to pre-order Transsiberian on Blu-ray at a discounted rate from Amazon.com.