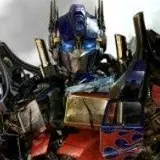 Paramount and Michael Bay's Transformers: Dark of the Moon fulfilled its destiny in owning the North American box office over the first three days of the Fourth of July holiday weekend. The latest Michael Bay effort outpaced its closest competitor, Disney's Cars 2, by a skyscraper tall margin of 4-1. It also made mincemeat out of the other two movies that opened in wide release, Universal's Larry Crowne and Fox's Monte Carlo. Overall, the holiday box office was up a healthy 6% over last year when Summit's The Twilight Saga: Eclipse opened with a bang.
Just like disfigured Decepticon leader Megatron, the Transformers film franchise is one you can't keep down. While the 2009 entry Transformers: Revenge of the Fallen made a tremendous amount of money ($870 million worldwide), it wasn't the most beloved of films. Critics despised it, fanboys were largely divided on it and even the film's director and star, Michael Bay and Shia LaBeouf, decided to tear it a new one (albeit after they got paid). But as we all know in the world of modern filmmaking, it doesn't matter if a film is good. What matters is how much you make at the box office.
With the exception of critics, who continue to show their contempt for the series, all seems to have been forgotten in regards to the 2009 turkey by the ticket-buying public. Arriving on 4,013 screens this weekend, Transformers: Dark of the Moon earned a whopping $97.4 million over the Friday-to-Sunday period for a great per-screen average of $22, 973. With $64.7 million amassed starting at nine pm Tuesday night, the movie has earned a staggering $162 million in its first five days of release. The latest chapter of the successful film series based on the Hasbro toy line reunites Bay and LaBeouf as well as John Turturro, Josh Duhamel and Tyrese Gibson. John Malkovich and Frances McDormand also star.
While a majority of this summer's 3D enhanced offerings have seen most of their business come from the non-3D showings, Dark of the Moon saw roughly 60% of its ticket sales come from the higher-priced showings. The daily breakdown is as follows: Tuesday night (starting at 9pm): $5.5 million, Wednesday $37.7 million, Thursday $21.5 million, Friday $33 million, Saturday $34.5 million and Sunday $29.85 million. The Monday holiday could help push the first week total to the $180 million mark.
While impressive in its own right, Dark of the Moon is lagging behind not only the $200 million earned by Revenge of the Fallen in its first five days two years ago, but also the 2007 original in regards to overall ticket sales in its first week out. Overseas grosses for the first five days were $210 million which helped make the $372 million global opener the third biggest ever on record.
Shifting gears in its second weekend was Disney/Pixar's Cars 2 which dipped by roughly 62% to an estimated $25.1 million for the holiday weekend. After ten days, the critically-despised sequel has earned $116 million. With the kiddies out of school for the summer and no real animated competition to speak of on the horizon, Cars 2 may be able to sustain itself to cruise to the $175 million mark, a sizable drop from the $244 million earned by the 2006 original and the lowest grossing Pixar release since 1998 when A Bug's Life earned $162 million. Overseas, Cars 2 has earned $82 million since opening last week.
After having a surprisingly strong opening last weekend, Sony's Bad Teacher took a bit of a dive in its sophomore session. Off 55% from last weekend, Cameron Diaz and her class earned an estimated $14.1 million from 3,049 screens to bring its ten-day total to the $59 million mark. The $20 million production should finish its run with a profitable $80 million at the domestic box office.
It was extensively advertised and promoted by its director and stars and it headlined box office giants Tom Hanks and Julia Roberts. Yet, for all the star power and marketing, Universal couldn't get a big opening weekend out of Larry Crowne. Critics didn't care for it and apparently audiences didn't either. For its first three days out, Larry earned $13 million from 2,972 screens. Universal shouldn't feel too bad as they are only distributing the film, a move that will minimize their financial stake. Another saving grace for the film is that it only costs $30 million to independently produce.
The third wide opener of the weekend, the Fox tween flick Monte Carlo, was dead on arrival in fifth place. Quietly arriving in 2,472 theaters with an anemic $7.5 million gross, Monte Carlo was the latest summertime woe for Twentieth Century Fox whose big summer films X-Men: First Class and Mr. Popper's Penguins have proved to be under-performers at the domestic box office. However, given Carlo's small production budget of $20 million, it should recoup its costs on the home market starting in a few short months.
The remainder of the top ten estimates was as follows: Super 8Green Lantern $6.2 million ($101 million after three weeks), Mr. Popper's Penguins $5 million ($50.1 million), Bridesmaids $3.5 million ($153 million) and Midnight in Paris with $3.3 million ($33.6 million).
Also of note this weekend was the induction of Pirates of the Caribbean: On Stranger Tides to the billion dollar club. The series may be the victim of the Law of Diminishing Returns here in North America, but overseas audiences are still in love with the high-seas adventures of Jack Sparrow. With $774 million coming from foreign markets, On Stranger Tides has earned just over one billion dollars. Not only is this the third Disney film to pass this mark in the past 18 months (following Alice In Wonderland and Toy Story 3), it is also the third Johnny Depp film to cross that plateau (the other two being Alice and the second Pirates flick back in 2006).
Next weekend, comedy will attempt to be box office king with the arrival of Warner's Horrible Bosses and Sony's Zookeeper.
– Shawn Fitzgerald