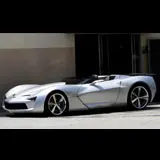 One of the new and underutilized Autobots introduced in Transformers: Revenge of the Fallen will be sporting a new look in Transformers 3.
Some spy footage posted to YouTube and picked up by the Transformers Live Action Movie Blog shows Bumblebee, the new red Ferrari 458 Italia Autobot and Sideswipe involved in some sort of quick getaway. Sideswipe clearly is now a Chevy Corvette Centennial Convertible to match the upcoming improved model that Chevy has yet to release commercially.
I'm still curious to see what name the Autobot Ferrari has been given and if it hails from the generation one transformers. Any guesses?