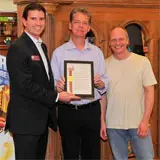 This year is a big one for Activision's Toys For Bob, the studio that gave birth to the Skylanders franchise and Toys to Life video game category. Not only is Toys for Bob releasing Skylanders Trap Team, their third game in the franchise, this year, they are also celebrating their 25th anniversary under founders Paul Reiche and Fred Ford.
To commemorate the milestone, the mayor of Novato, CA, where Toys For Bob is located, presented the studio with a proclamation as thanks for their years of innovation and service. You will probably be more interested in how this anniversary could affect you, and it potentially can in a very cool way.
To help celebrate their 25th anniversary with fans, Toys For Bob is giving away 25 very rare Skylander variant figures via Twitter. You can get a glimpse of some of these figures in the picture below, and all you need to do to enter the contest is retweet this status on Twitter.
Five of these rare Skylanders will be given out per day over the next five days. Good luck to all!