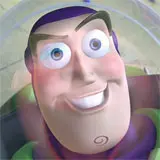 After a leak over the weekend saw the new Toy Story 3 trailer passed around YouTube like a hot potato, Disney today officially unveiled the trailer that includes the first footage from the upcoming Pixar sequel.
In the trailer, an opening montage set to Toy Story's musical voice Randy Newman chronicles Andy's time with the toys. With Andy heading to college, the toys find themselves at a crossroads. For reasons unknown they end up in a daycare where initial excitement turns to a nightmare at the hands of unruly toddlers with destructive tendencies.
There is no sign (that I can see) of the pink teddy bear that appeared as an Easter Egg in Up and is confirmed per Pixar to be a Toy Story 3 main character and speculated villain.
Toy Story 3 stars the voices of Tom Hanks, Tim Allen, Joan Cusack, John Ratzenberger and Wallace Shawn. It arrives in traditional and 3D-equipped theaters on June 18.
View the Toy Story 3 trailer in high definition at Apple.com.