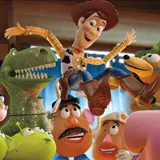 When they say the toys are back in town, you better believe it. Disney and Pixar's Toy Story 3 hit the jackpot this weekend at the North American box office while Warner Brother's Jonah Hex was an outright bomb. Thanks to the latest Pixar hit, the box office continued to show life following the big debut last week of Sony's The Karate Kid which withstood the return of Buzz and Woody to post a solid second weekend gross. Overall, business was up a healthy 31% from both last weekend and last year at this time.
Toy Story 3 landed on 4,028 screens for an eye-popping $109 million in estimated ticket sales. Of that screen count, 2,463 screens were Digital 3D screens while 180 were IMAX . The weekend breakdown was as follows for the second sequel to the 1995 classic: Friday brought $41 million, followed by an understandable 10% drop on Saturday to $37 million. Disney is estimating that Sunday's take will be $31 million. The higher prices for 3D and IMAX showings were no doubt of great benefit. But even without those formats, the film would have had a big debut. Like most Pixar flicks, the film was very warmly received by critics, whose praise resulted in a 99% approval rating on Rotten Tomatoes. Add to the raves the fact that the kids are now out of school and those who loved the first two have not outgrown the characters or series, and you have all the markings for another Pixar smash.
While the opening did not break the record set by Shrek the Third ($121 million in its opening weekend) three years ago, Toy Story 3's debut did set a record for a Pixar debut by easily topping 2004's The Incredibles ($70.4 million). As most Pixar films go on to gross four (sometimes five) times their opening weekend take during their theatrical run, a $400 million domestic total is not completely out of the question.
Making a quality hit movie out of a lesser-known comic book/graphic novel series isn't an impossibility. One only look at The Crow, Blade, Road to Perdition or Men in Black to see that. Warner's supernatural western misfire Jonah Hex will not be included in that group. The 1970s DC-Comics character finally made it to the big screen, but judging from its horrible eighth place $5.08 million gross from 2,825 screens, one has to wonder why they bothered to begin with.
Hex has had a turbulent production history right from the start, going through several screenwriters, a few directors and extensive reshoots en route to its opening which was met with a tidal wave of negative reviews. While Unviersal's MacGruber may have had a lower debut (but not by much), that film didn't cost anywhere from $35-65 million to produce (Warner claims $35 million while others state reshoots added $25-30 million to the bill). Following the disappointing domestic returns for Sex and the City 2 and the non-start of the well-reviewed Splice, Warner has to be praying that its next release saves their summer: Christopher Nolan's Inception.
Dropping less than half (47.9%) from its big $55 million opening last weekend, Sony's reboot of The Karate Kid with Jaden Smith and Jackie Chan landed in second place this weekend to gross $29 million bringing its estimated ten-day total to an excellent $106.2 million. With the kids out of school, Jackie and Jaden's China adventure is looking to have a healthy run in the weeks ahead and could finish in $180-190 million range when all is said and done. Not surprisingly, a sequel is already in the works.
Last weekend's other opener, The A-Team, dropped by an okay 46% to an estimated $13.7 million in its second weekend to land in third place. However, the $49.8 million in ticket sales after ten days has to come as a disappointment for 20th Century Fox who no doubt was hoping that the heavily-promoted action flick would become a new franchise for the studio. Watch for the guys to finish their run between $70-75 million.
Fourth place went to Universal's raunchy rock comedy Get Him to the Greek with $6.1 million in sales for its third weekend. Off 38.5% from last weekend's take, the gross for the Judd Apatow-produced film now stands at approximately $47.8 million. Greek should close close to the $60 million range. Suffering the most from the arrival of Buzz and Woody was Dreamworks' Shrek Forever After which dropped a steep 65% while losing a majority of its 3D and IMAX screens. Landing in fifth place, Shrek's $5.5 million weekend haul from 3,207 screens brought its total to $223 million mark. The final installment of the Green Ogre series should finish between $230-235 million.
Holding well in sixth place was Disney's The Prince of Persia: The Sands of Time which only dropped 18% this weekend to nab $5.28 million for a new domestic total of $80.5 million. Seventh place went to the Katherine Hiegl and Aston Kutcher flick Killers which nabbed $5.1 million for the weekend and a new total of $39.4 million. The Lionsgate spy comedy should finish with approximately $45-47 million in domestic sales and the Jerry Bruckheimer adventure epic between $90-95 million.
In ninth place behind Jonah Hex was Paramount and Marvel's Iron Man 2 with $2.67 million and a new total of $304.7 million. Rounding out the top ten was Fox's family comedy Marmaduke which barked up $2.67 million this weekend to bring its three week total to the $28 million range. Watch for the big dog to close with roughly $35 million. Just outside the top ten was Sex and the City 2, dropping 55% to add $2.5 million to its domestic total now sitting at $90.1 million. Carrie and the gals should wind up calling it a day somewhere around the $95 million mark.
Next Wednesday, Fox releases its Tom Cruise and Cameron Diaz action comedy Knight and Day a couple days early while Sony unleashes Adam Sandler's Grown Ups next Friday. Predict what these films will make next weekend for a chance at Blu-ray prizes in our weekly Weekend Box Office Prophet Game.
– Shawn Fitzgerald