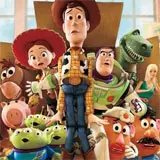 Toy Story 3 is looking like it will go where no Pixar film has gone before in its opening weekend. To $100 million, and beyond!
According to early studio estimates shared by Deadline, Toy Story 3 is looking to land somewhere between $118 and $125 million from Friday through Sunday. That would easily crush the Pixar opening weekend record set by The Incredibles with $70.4 million.
Part of the reason for Toy Story 3's behemoth opening are the 180 IMAX screens and 2,463 3D screens it's playing on which add an estimated $18 million to every $100 million of box office gross. Even without the bump, Toy Story 3 would still easily be Pixar's best which shows how much moviegoers have been yearning for the return of Woody, Buzz and Andy's roundup gang.
While Toy Story 3 is a studio's dream, Jonah Hex is a nightmare for Warner Bros. Tracking and interest in the film have been nil and now early estimates point towards a sub-$9 million opening weekend. This would mark Megan Fox's second consecutive dud outside the Transformers franchise that she permanently left about a month ago. At least Warner has a pair of Harry Potter films and Batman 3 in the pipeline. Megan Fox has?
I'll be back Saturday morning with Friday's box office tallies and revised weekend estimates.