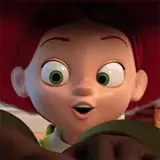 Disney and Pixar have released a new trailer for the Toy Story 1 and 2 double-feature debuting the classics in 3D for the first time.
October 2 is the official release date for the films which will play consecutively for the price of one ticket. Showings will run for exactly two weeks before vanishing in anticipation of next year's Toy Story 3.
The trailer is an all-new skit featuring Woody, Buzz, Jessie and Rex expressing their excitement for returning in 3D. Anything Pixar makes is great, even trailers, and this is no exception.
Head on over to Yahoo! Movies to view the trailer in high definition.