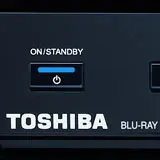 Behold Toshiba's BDX2000 Blu-ray Disc Player, the final nail in HD DVD's coffin as its main proponent dons the armor of a once hated enemy.
Toshiba officially unveiled the player this morning with features, pricing, availability and a couple high resolution images you can view by clicking the smaller versions below.
From a spec standpoint, the BDX2000 packs features now standard with players manufactured this year. Profile 2.0 (with BD-Live), 1080p/24 playback and Dolby TrueHD / DTS-HD Master Audio are all supported. It also features a smoked mirrored front panel to hide all the buttons and offer a streamlined look when movies are playing.
The BDX2000 unfortunately does not include on-board memory storage, a must for downloading BD-Live material. Purchased separately SD memory cards are the only option. There is also no on-board Netflix streaming, a feature becoming increasingly popular in similarly priced players, or integrated wireless wi-fi, a feature Playstation 3 boasts.
The Toshiba BDX2000 will arrive in stores this November for MSRP $249.99 (actual price could dip below $200) and face off against Sony's newly repriced PS3 Slim console at $299.99.