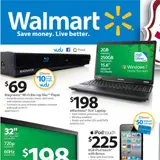 Walmart has divided its 2010 Black Friday deals into two distinct time periods in an effort to spread the savings love. I've taken a look at both times and put together some home entertainment recommendations to help you in your preparation for your Black Friday plan of attack.
Starting at midnight a number of PS3, Xbox 360 and Nintendo Wii video games will be on sale for $29 each. These include some notables such as NBA 2K11, all the current EA Sports titles, Call of Duty: Modern Warfare 2, Medal of Honor, and Red Dead Redemption. An additional 80 titles including inFamous, KillZone 2 and others will be priced at $10. Select Wii and DS games will be priced at $7.
The big midnight video game deals are Halo: Reach for $35 and Band Hero for $75.
On the movies side at midnight are a slew of titles priced at either $5 or $10. The $5 title highlights are Batman Begins and The Dark Knight, Gran Torino and The Mummy. Some $10 titles include The Karate Kid remake, Harry Potter and the Half-Blood Prince, and Get Him to the Greek.
At 5am is when the bigger electronics deals kick in. That Magnavox Blu-ray player that we've been talking about will be available for $69. Other Blu-ray player deals include an LG player for $94 and a Samsung for $138. A 32″ and 42″ Emerson tv will be sold for $198 and $398, respectively. LG's got a 42″ tv for $478 and a 19″ for $98. There's a Sanyo 50″ 720p set for $498, while Samsung's got a bunch of sets from $328 all the way up to $998 for a 52″ 1080p tv.
Last but certainly not least are some gaming console and hand held deals. The Nintendo DS Lite will be up for sale at $89; a 160GB PS3 bundle with Uncharted 2 and Medal of Honor for $299; a Wii bundle with red console, Wii Remote Plus and Nunchuk, extra set of controllers, and Epic Mickey, Super Mario Bros, and Wii Sports games; and an Xbox 360 4GB bundle with Call of Duty: Modern Warfare 2 and Mass Effect 2 for $199.
Walmart's got all these online which you can check out based on your locale at their official website.