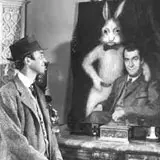 When news broke that Steven Spielberg's next directing gig would be a film based on Mary Chase's Harvey play that went on to become a classic film starring Jimmy Stewart, the name that came to everyone's mind in the lead role was Tom Hanks. Not only has Hanks proven to be a Spielberg favorite, his career and personality has been often compared to Stewart's.
According to Variety, Hanks has already had a discussion with Spielberg about the role and is not interested. He has not read Jonathan Tropper's script and has no interest in following Stewart's footsteps so closely.
The official statement from Fox reads, "Tom Hanks has not read the script and speculation about him and this project has been inaccurate." Now the question becomes, who will Spielberg find to carry Harvey as Stewart did the original without crumbling under the weight of lofty expectations?