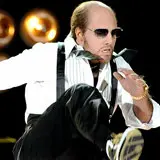 Did you dig Tom Cruise's ass shaking performance as Les Grossman with Jennifer Lopez at the 2010 MTV Music Awards? Tom seemed to, so much so that he's pursuing building a feature-length film around the foul-mouthed Hollywood producer character that was introduced in Tropic Thunder.
"We're working on it," Cruise told reporters backstage at the awards show when asked about a film for Grossman (via E!). "Yup, we're working on it."
An hour and a half of Grossman shooting his mouth off and degrading people. To get an idea of what that would be like, find a Grossman scene in Tropic Thunder and re-watch it continuously about 40 times in a row. Maybe he's better in small doses.