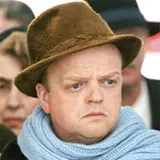 Veteran British actor Toby Jones has scored the role of Arnim Zola in Captain America: The First Avenger per THR.
In the Captain America comics, Zola was an evil scientist who worked with the Nazis and Red Skull to create robots and clones. He eventually preserved himself by moving his mind into a robot and became an enemy of The Avengers as well.
THR's photo of Toby alongside Zola is too perfect so I have included it below. The resemblance is uncanny!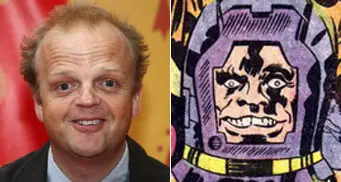 Jones joins Chris Evans as Captain America, Sebastian Stan as Cap's sidekick Bucky Barnes, Hayley Atwell as Peggy Carter and Hugo Weaving as Red Skull. Tommy Lee Jones is reportedly still in negotiations for a role. Joe Johnston's Captain America: The First Avenger begins shooting next month.