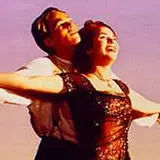 To mark the 100th anniversary of the day the Titanic set sail on its maiden and only voyage, James Cameron's hugely successful film based on the fateful voyage will be re-released in theaters for the first time in 3D on April 6, 2012.
Cameron had announced a couple years ago that Titanic was being converted to 3D and would sail into theaters sometime in 2012. To ensure the best possible presentation, Cameron and producer Jon Landau's team has digitally remastered the film at 4K and slowly completed the 3D conversion.
By re-releasing Titanic, Cameron could cause another shakeup in the all-time box office earnings charts. His Avatar bumped Titanic out of the top spot a year-and-a-half ago, and now all Titanic in 3D needs to earn is just under $160 million to return the favor.