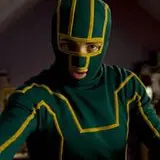 Every year at least one film walks away from San Diego's annual Comic-Con standing on much firmer ground than when it entered. Director Jon Favreau to this day credits Comic-Con with turning the world onto Iron Man and help launch it into a huge franchise for Paramount.
On the other end of the spectrum are the small independently funded films like Kick-Ass. Prior to Comic-Con, Kick-Ass was an ugly duckling to movie studios, stuff with underage gore and violence no one was willing to take a chance on.
Then Matthew Vaughn aired a promo clip for his comic book-turned-movie done his way at Comic-Con. It brought the house down and became the talk of the show. A few days later the film in its entirety was screened to possible distributors.
Vaughn quickly became the goose who laid the golden Kick-Ass egg.
According to the Risky Biz Blog, there are three studios currently vying for the theatrical distribution rights to Kick-Ass: Lionsgate, a strong possibility considering the genre and their recent stellar earnings report; Paramount, looking to expand its "fanboy" driven library; and Universal, which could use a potential new franchise if The Hulk is never given a second go-around.
The irony of studios not biting at Kick-Ass until after it generated an avalanche of buzz is whoever the top bidder is will have to pay exponentially more for it than just a few months ago. The expectation is a high seven-figure deal complete with an extensive advertising and publicity campaign.
Vaughn is not expected to ink a deal unless he retains full creative control. That means pre-teen assassin The Hit Girl (Chloe Moretz), the star of the footage, should keep most if not all of her bloody escapades in the final cut. To that I shout, "kick-ass!"