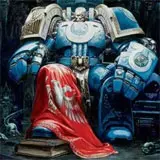 THQ has announced the Warhammer 40,000 franchise will be making its way to consoles as a new action RPG.
Warhammer 40,000: Space Marine, currently in development at Relic Entertainment, puts you in the shoes of a lone Space Marine in a third-person environment. Combat will be frantic in either a single-player campaign driven story or in "wide-scale" online battles with RPG elements playing a minor role.
The game is being built from the ground up to take advantage of Xbox 360 and Playstation 3's strengths. With a fresh start, Relic promises the most "intimate and brutal" Warhammer 40k experience to date.
A release time frame for 40,000: Space Marine has yet to be set. The first media should come available next week during E3.