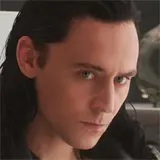 The new trailer for Marvel's Thor: The Dark World premieres online tomorrow, August 7, as part of YouTube's Geek Week. Its arrival is being teased by some of Asgard's finest and, in this case, devious citizens.
To mark the two day countdown to the new Thor: The Dark World trailer, Marvel took to their Facebook page and released an image of Tom Hiddleston as Loki from the film. Loki is casually sitting in his jail cell following the events of The Avengers, reading a book to expand is already exquisite taste in vocabulary that includes such terms as "mewling quim."
In the film, Thor will come to Loki in jail and strike a deal with him to exchange freedom for his help in defeating Malekith and the Dark Elves. In Marvel's world, making a deal with Loki is like striking a deal with the devil, so don't expect Loki to play nicely despite his brother freeing him.
There's a good chance we will get another Thor: The Dark World trailer tease image at some point today.
Thor: The Dark World opens in theaters everywhere on November 8.
Source: Facebook