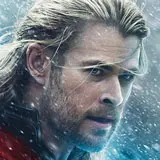 Marvel has released the first poster for Thor: The Dark World that aims its focus squarely on the God of Thunder himself, Thor (Chris Hemsworth).
The big surprise is news that we won't have to wait until the release of Iron Man 3 next month to catch the first Thor: The Dark World teaser trailer. Marvel and Disney have confirmed that the trailer is scheduled to debut online this upcoming Tuesday, April 23. If early leaks of the trailer's content are correct then it's a trailer any Marvel Cinematic Universe fan won't want to miss.
Though Thor: The Dark World introduces several new characters into the Marvel Cinematic mythos, Marvel has chosen to highlight stars that appeared in the original Thor for the first poster. Toplining the poster are Chris Hemsworth (Thor), Natalie Portman (Jane), Tom Hiddleston (Loki) and Anthony Hopkins (Odin). There is no mention of Christopher Eccleston who joined the cast as villainous Malekith.
Thor: The Dark World is the second film in Marvel's Cinematic Universe Phase 2. It will arrive in theaters in 3D on November 8 of this year.