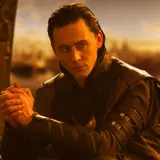 Thor is off to a lightning quick start at the box office with midnight showings and early estimates on Friday suggesting it will accumulate upward of $30 million in ticket sales for its opening day
Last night comic book fans celebrated Cinco de Mayo by shelling out $3.25 million to watch Thor starring Chris Hemsworth and Natalie Portman in midnight screenings across the U.S. and Canada. And why not? Thor currently ranks 80% at Rotten Tomatoes, an impressive score for a summer popcorn film.
By comparison, last Friday Universal's Fast Five pocketed $3.8 million from midnight screenings without the benefit of 3D. It went on to earn $86.3 million from Friday through Sunday and stands to make anywhere from $35 to $45 million in its second go around.
Thor has virtually no chance of reaching Fast Five's opening weekend or either Iron Man film for that matter. It should easily top The Incredible Hulk which opened to $55.4 million back in 2008, the same summer Iron Man was released.
Before today, studio estimates were pegging Thor to finish somewhere between $60 and $70 million through Sunday. Keep in mind that studios thought Fast Five would open to around $75 million.
Should Thor's Friday box office haul approach $30 million, a $65 to $75 million seems more likely. The 3,955 screen count that includes many in 3D and IMAX will help Thor elevate its success.
Thor's opening day totals will be passed along Saturday morning so be sure to check back for the scoop. If you missed it, be sure to read our Thor movie review.